"I am the good shepherd; I know my sheep and my sheep know me—just as the Father knows me and I know the Father—and I lay down my life for the sheep." ~ John 10:14-15 NIV
"I am the good shepherd; I know my sheep and my sheep know me" ~ John 10:14 NIV
Madame Jeanne Guyon writes,
"When you have settled into a peaceful spirit and are fully aware of God's Presence; when earthly distractions are not your primary thoughts; when your soul has properly fed on God's word and you have chosen as an act of your will to believe it, you are now ready to communicate with your heavenly Father."
I believe the passage in John 10:14, where God tells us that He knows our voice and we know His, is one of the most important Truths of Scripture. How else do we get through a day without master minding our own way, especially when facing pain, despair and suffering? God's primary way of speaking to us is through His Word, the Bible, Holy Spirit inspired and inerrant. As we are one with the Living God, Jesus Christ, the Holy Spirit counsels, teaches, helps and encourages us spirit to Spirit. He speaks to us in our thoughts, through other Godly counselors, teachers, pastors, nature, music, etc. There are myriads of things that He whispers to our mind, the mind of Christ, to get us through a day. Are we listening? Invite Him In and experience Jesus for yourself. He guides us one step at a time.
This one step at a time business can be frustrating! I want to see the whole picture! Then I think, what if I could see it? What would I do? I say I would do things differently, but that's the point. I have learned through my fleshly choices. Learned what, you might ask? I have learned that no matter what I do, say and choose out of my flesh, God loves me; He never leaves or forsakes me, thus His faithfulness; He accepts me, not according to what I do or have done, but on the basis of what Christ has done. The standard is His—perfection. There is no way apart from the righteousness imparted to me to bring me into right standing with God that I could ever stand in the presence of a Holy God on my own merit, no matter how "good" I performed!
"He made Him who knew no sin to be sin on our behalf, so that we might become the righteousness of God in Him." ~ 2 Corinthians 5:21
I believe that is what Madame Guyon implies about a peaceful spirit and full awareness of God's Presence. And that is why I do not want anything to block me from running into the throne room of Grace, calling "Abba, Abba" and jumping in the lap of my Heavenly Father so I can listen to my Fountain of Life! That is New Covenant living.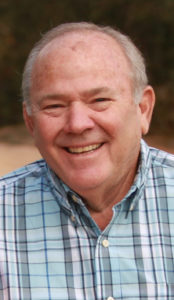 John A. Graham
Executive Director Abundant Grace International
Marriage and Family Counseling, Discipleship, Teaching, Training,  Life Coaching, and Debriefing
Contact John