Here is an experience that is safer to watch rather than to participate in. Imagine yourself trying to retrain your mind. Take a few minutes and put yourself in this situation.
Does it take effort on your part?
Does it come naturally to you?
Did someone else help you by telling you how to do it?
How much attention did it take to accomplish the task?
Note his statement; I can't ride a bike like you can any more.
As silly as it appears this is Gods design and is what is going on in your brain right now. Paul says it very clearly in Romans. If by sheer determination it is possible, how much more by surrender to the influence and guidance of the Holy Spirit and His power can one die to the power of flesh and addictiveness.
Romans 12:1,2 I appeal to you therefore, brothers, by the mercies of God, to present your bodies as a living sacrifice, holy and acceptable to God, which is your spiritual worship. Do not be conformed to this world, but be transformed by the renewal of your mind, that by testing you may discern what is the will of God, what is good and acceptable and perfect.
Lest you think you can do it on your own, consider the difference between fleshly determination and spiritual heartfelt surrender. There are so many powerful words in these verses but let's focus on The BIG word, PRESENT. God doesn't need your accomplishments, abilities or efforts. He wants you to present to him your heart. There is no spiritual victory accomplished, no spiritual battle won, unless it is through surrender. (Yes, it is what I call the flip) Jesus said:
"for apart from me you can do nothing." John 15:5b.
Paul, in Romans, said:
"What shall we say then? Are we to continue in sin that grace may abound? By no means! How can we who died to sin still live in it? Do you not know that all of us who have been baptized into Christ Jesus were baptized into his death? We were buried therefore with him by baptism into death, in order that, just as Christ was raised from the dead by the glory of the Father, we too might walk in newness of life.

For if we have been united with him in a death like his, we shall certainly be united with him in a resurrection like his. We know that our old self was crucified with him in order that the body of sin might be brought to nothing, so that we would no longer be enslaved to sin. For one who has died has been set free from sin. Now if we have died with Christ, we believe that we will also live with him. We know that Christ, being raised from the dead, will never die again; death no longer has dominion over him. For the death he died he died to sin, once for all, but the life he lives he lives to God. So you also must consider yourselves dead to sin and alive to God in Christ Jesus.

Let not sin therefore reign in your mortal body, to make you obey its passions. Do not present your members to sin as instruments for unrighteousness, but present yourselves to God as those who have been brought from death to life, and your members to God as instruments for righteousness. For sin will have no dominion over you, since you are not under law but under grace." Romans 6:1-14
Oh, and if you ever do master this bike, I would love to watch you ride it.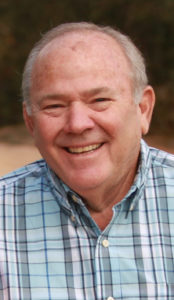 John A. Graham
Executive Director Abundant Grace International
Marriage and Family Counseling, Discipleship, Teaching, Training,  Life Coaching, and Debriefing
Contact John