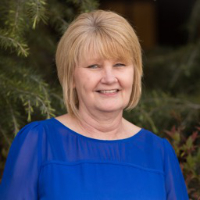 Carolyn Kennedy
B.A.
At the age of 32, during a painful time in my marriage, I received Christ as my Savior. I began living my life trying not to sin and to prove that I was a good Christian. I strived to be the best wife and mother in my home, the best Youth Group Leader at my church and the best sales person in my career. No matter how hard I tried and how much I achieved, I would often feel like a worthless failure. Of course no one knew this about me because on the outside I looked like I had it all together and was secure and confident; however, on the inside I felt very insecure and struggled with a lot of anger, anxiety and stress.
Fourteen years after I was saved, God called me to walk away from a very successful sales career to be available fulltime to minister to teens and families. It made no sense because I loved my job and the money it provided and I was not planning on giving it up until I retired.
After leaving my career, I received a Bachelor's Degree in Christian Counseling and completed a nine month Advance Disciple Training Course. It was during the discipleship training that God revealed to me that I believed a lot of lies about Him and myself, and these lies kept me in bondage to a vicious cycle of trying to prove myself as worthy enough to be loved and accepted by God and others.
Without even realizing it, I believed that my purpose and identity came from being a good wife and mother, volunteering at my church, being successful and the money I earned. God began to teach me in scriptures that my identity comes from Christ and His finished work on the cross. At the moment I received His forgiveness, I also received His Life! It is Christ who gives me Life and Christ in me is my hope of glory (Colossians 3:4 and 1:27). I now understand that my identity is in who Christ says I am and I can live free from striving to prove that I am worthy through my performance. I enjoy each day knowing that Christ lives in me, and is working through me to accomplish His glory! In my union with Christ, I am His beloved precious princess daughter, and nothing I do or don't do can ever change that identity!
My life has been radically changed through knowing and experiencing my identity in Christ! I now have a joy and passion to be used as God's instrument to teach teens, adults and families to know Christ as their Life, and to experience Christ in them that leads to freedom from depression, anxiety, anger, addictions and marital problems.