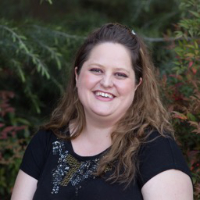 Britany Garfinkel
Freedom. I have that word written on my wrist. I would never have previously imagined getting ANY tattoos, but God has shown me that is what He wants for me. That He wants all of His children to know….true freedom in Him.
Over a year ago I was struggling to put emotion in my voice as I sang at my voice lesson. My teacher and dear friend said that she felt like God was prompting her to do something. He wanted her to invite me to a spiritual dance class. What?! I grew up fundamental independent baptist. You do not dance or participate in "holy roller" spiritual dances! I told her I would pray about it and asked God if this was really something He wanted for me. I felt such a complete and total peace. The day of the class I kept praying that only God would speak. That I would only hear from Him and no evil influence would overtake me. As I drove to the class I kept hearing God repeat over and over to me the word freedom. Freedom. Freedom. I want you to experience real freedom in Me. I had learned so much through AGI and even becoming a counselor at AGI, but I was still struggling with being me. I still struggled with the concept of Christ in me. I had been taught all my life how bad I was and now I knew that Christ wanted to live His life through me and give me a new identity. I just couldn't figure out if I was going to disappear or if He was going to make me into someone else. That night I froze when they said, "Just dance however God is leading you to." What did that even mean? Tears poured down my face as I just stood there. One of the teachers came and prayed over me and said that she felt like God was trying to teach me something important. Again I kept hearing Jesus whisper the word freedom to me. I still didn't know what to do. The teacher said to just dance out what I was feeling. As I tentatively began to dance out my frustration something clicked. Whoosh! Clarity. Freedom! Freedom to be me. To move as me as Christ was leading. To be unashamedly, unapologetically me.
All my life I was told that I was no good, weird, strange, too quiet….whatever. I was in the habit of continuously apologizing. To the point that people told me it was annoying. But as "Not good enough" I felt like I had to apologize for existing. That night I believe I saw God write the word Freedom on my wrist. He was showing me that my identity in Christ didn't mean that I would disappear. I was becoming the most complete and whole version of myself. I was like a flower that suddenly burst into bloom. I had thought I was excited before to teach others about life in Christ, but after this holy revelation I am even more passionate for everyone to know the depth of God's love for us. The complete richness of the relationship He wants with us. The freedom He has for us in Christ. No more do we as believers need to justify ourselves. We have been justified in Christ. Not to be free to do whatever the flesh or satan is pulling us into, but free in Christ. The pressure is off. I and all who believe simply have to continue to allow Christ to lead. He is our loving dance partner who changes our perceptions and renews our minds to think His thoughts as we relax and just learn to be.