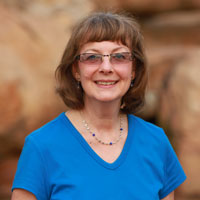 Aloha Vance
B.S.
I pretty much breezed though the menopause years, but I had no idea what was ahead for my husband and me. After 34 years of church planting, we had no idea that our faith would be shaken to the core of who we were. Sleep deprivation was the culprit, and antidepressants and sleep aids helped a great deal until we returned to Greenville and the doctor did not believe a Christian should be on an antidepressant. Ok, I don't like medicine either, but as the months drug on with more sleep deprivation, the symptoms became devastating. So now I am begging the doctor for something more to help me. Then breast cancer showed up and my stress heightened. All of this went on for about a year and all the things I had taught women and children through our years of ministry did not help me. The Lord was taking me to the "bottom" so that He could really show me His great love.
So after we had been back in Greenville for a year, I was admitted into the physic ward under a suicide watch. God was working as I agonized over my condition. Through special friends I ended up at the Women's Refuge of Vero Beach in Florida. For the first time I began to see how much God loved me despite all of my efforts. GOD LOVED ME WHEN I FAILED AS MUCH AS WHEN I SUCCEEDED. What a freedom from bondage this brought to my life. The healing had begun and I was beginning to understand grace.
In my missionary "career" I have loved working with women and now I had a great desire to share my new life with others who were going through what I had gone through. As the years have passed I been trained in the process that changed my life and I am grateful to be a part of Abundant Grace and the opportunities it gives me to see other set free.
"You shall know the truth and the truth shall set you free." John 8:32